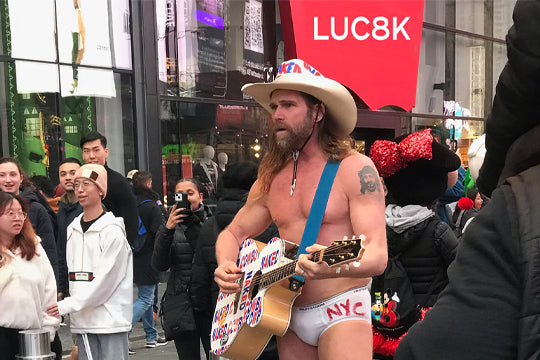 Have you ever visited New York City's center of mayhem and craziness? That's true, Times Square is what we're referring to when we say "the epitome of the hustle and bustle of city life"! It's like a melting pot of several cultures combined in one energetic and fascinating location. Times Square is the place to be if you want a regular reminder that the globe is genuinely multicultural. With its colossal digital billboards and busy streets, it provides a glimpse into the prospect of virtually endless possibilities. This unique Midtown Manhattan Intersection serves as a reminder of our increasingly interconnected world and the several difficult problems it presents.
Greenwashing has been prevalent for years, despite the recent amplification of the challenge of changing climate. Today's climate change is a pressing global issue that demands collective and coordinated efforts across all sectors of society. Sustainable luxury, as a concept, can potentially serve as a crucial component in the larger endeavor to mitigate the impacts of climate change. Transparency and a commitment to responsible practices in production and purchase are integral components of defining luxury for luxury goods producers and consumers. These practices operate across several fronts, from ecologically conscious to socially responsible. And believe it or not- all together might give it a unique charm that mass-produced copycats can't replicate.
Reinvent Luxury and Style with Sustainable Commitment
For those who refuse to compromise on making a statement without sacrificing their sense of style and sophistication, LUC8K offers a timeless way to elevate any look. Founded in 2016, we have been helping people make their mark for years. It all began with a passion for bespoke handbags and accessories, brought to life through a partnership with a Swiss atelier renowned for its artistry in crafting premium leather goods by hand in Casablanca. Yet, our brand's commitment to sustainability was paramount from the start, prompting us to rethink the production process and relocate to Europe. After two years of air freighting materials back and forth between Africa and Europe via Swiss hubs, we realized our carbon footprint was far from chic. In 2018, we made the big move to France, bringing our transport air miles down to a minimum. Today, our treasured creations proudly bear the 'Handmade with Love in France' label, synonymous with unparalleled quality and exclusive flair, much like the fashion-forward styles found on the streets of Paris. Whether you're seeking something classic or edgy, you will find these statement-making leather accessories in various colors, shapes, and sizes. Crafted from premium, sustainable materials that ensure longevity, we design collections to cherish for years to come. Sleek, sophisticated, and stylish, they are the perfect addition to an outfit that demands attention. With carefully considered details and uncompromising craft, our accessories bring elegance and sustainability together in one beautifully crafted package. So, indulge your fashion-forward sensibilities and invest in a handmade accessory that will stand the test of time - and look good doing it! Let the good times roll in Times Square, knowing you are making a conscious choice that won't sacrifice your sense of style! So, Jazz up your play. Shop shoppers, totes, duffels, wallets, belts, and cardholders that put you at the top of your game! Step out in style to hit the town with your customized designs. There's no need to compromise when you can have it all: Luxury, Style, and Sustainability.
Investing in Experiences, Not Things
Limits do not exist in the realm of luxury, or do they? With designer labels often comes a hefty price tag that can be cost-prohibitive if you don't have an unlimited budget. Yet often, we tend to turn a blind eye to the financial and ecological costs of luxury indulgence, particularly when it comes to their environmental impact. It's time to get real and acknowledge these costs.
Luxury has always been a sign of status, quality, and craftsmanship – but what if you could embrace luxury without compromising on ethics? With our commitment to quality craftsmanship, meticulous attention to detail, and made-to-last materials – investing in customized pieces empowers modern fashion forwards everywhere to embrace affordable luxury without compromise. We believe that luxury doesn't have to equal overindulgence or environmental damage; rather, it should celebrate sustainable production practices while still providing devotees with stunningly stylish options they'll love.
Self-expression is a concept of freedom we uphold and is essential for our brand. Since the world of high fashion constantly keeps us on our toes, we are aware that it is crucial to enthrall our clients with compelling narratives and forge lasting, meaningful connections with them. After all, fashion ought to be thrilling and enjoyable. So let's stay on top of the always evolving trends and make sure we're never behind! We empower clients to become a part of our story and share our ideals by enabling them to design their own bags and express themselves freely. In the contemporary world, connecting with the stories we tell is everything - from Sophie's tales of exploration and adventure to our unwavering commitment to sustainability.
Sustainability and individual freedom of self-expression
Imagine meeting Sophie, a 15-foot-tall giraffe, on your travels around the world with her bespoke leather bags. She has a unique style that always turns heads and is a real advocate for sustainability. Unlike fast fashion, we believe in creating items that won't unnecessarily harm the environment. As Sophie likes to say "I walk the walk when traveling – I don't just talk the talk" and the proof of our commitment is in the results we create. You better believe it. Our motto is simple: Pick your colors, pick your lucky number, and create a bag that screams YOU! Knowing that the leather we source is from France and Italy, where the most sustainable and certified conditions are maintained, leaves a good taste in your mouth. So why not join Sophie on her adventure and grab yourself a LUC8K bag today?
Imagine yourself setting out for the day, prepared to take on everything that comes your way. You can't help but grin as you take out your dependable handbag, admiring the lovely pattern, deft stitching, and premium leather that have endured so well through the years. Every time you use it, this charming, bright object makes you happy. Additionally, while you go about your day, you can't help but reflect on all the tales the bag holds — your unique encounters and recollections that have grown entwined with this cherished item. You could have gotten away with a cheap imitation, but why cut corners on something you use every day? You won't regret making the investment in a high-quality handbag, and it just might end up being your dependable partner for years to come.
Defining Sustainable Luxury
Did you know that your shopping mindset can impact the environment? It turns out that shoppers who prioritize sustainability are more likely to invest in a luxury handbag than a fast fashion alternative. Quality over quantity is key, and true luxury lies in products built to last - this sentiment that many discerning individuals share. Sustainable luxury is critical to the saturated market defined by conglomerates that exceed the sense of "less is more" in a globalized world. And luxury shoppers agree that a handbag's higher price tag means they will take better care of it.

So, next time you're shopping for a new accessory, consider the bigger picture - your choices can make a difference! By making thoughtful purchasing decisions, we can prevent more items from ending up in landfills.
Customized Leather Goods - Unique and Special Pieces Focus on Quality and Sustainability
Are you tired of synthetic materials masquerading as sustainable alternatives? We hear you. That's why luxury fashion brands are delving into the sustainable production of traditional leather. Vegan leather might seem like the eco-conscious choice; however, it's often laced with plastics. Natural leather, on the other hand, is truly sustainable because of its incredible durability. We believe that investing in a high-quality, genuine leather product is the way to go. Our commitment to superior quality and sustainability means that we don't compromise on excellence. While we're all for exploring alternative technologies, we're not ready to let go of the real deal just yet.
Shopping with LUC8K for your luxury leather bags and accessories is an investment that pays off - and not just for you! By waiting the extra four to six weeks for your handmade item, you prove your commitment to sustainable luxury and resource depletion. You show that you understand the importance of quality and craftsmanship and are willing to go the extra mile to find something truly unique. One can expect to reap the rewards of patience - good things do indeed come to those who wait, and your patience is a testament to our handmade goods – goods made with love and care in France, simply not with a quick-fix mentality. So next time you're considering purchasing a luxury bag or accessory, think beyond the immediate gratification of having it. Consider the bigger picture of sustainability, craftsmanship, and long-term value.
All models include a personalized touch to every product by assigning a unique 4-digit serial number to each model. Customers can select their birthdate or lucky numbers, adding an extra layer of individuality. We have structured the entire collection according to international airport codes, the so-called ICAO codes, and color combinations. Its s is our playful approach to world travel and the Mantra about stepping outside the boundaries of conventions, which our mascot, Sophie, embodies all too well. Sophie, the first giraffe, reported by Forbes. Unfortunately, the last two years have been a bit frothy, and Sophie and all of us have had to keep both our feet on the ground. Fortunately, that is history! And the desire to travel is on the upswing again.
Creating Greener Practices – High-Quality, Responsibly-Made Luxury Items, and Fun-Factor Experiences
We don't believe in one-color-fits-all. Instead, we prioritize customization so that every customer can have an accessory tailored to their tastes and needs. Each piece is carefully designed and crafted according to customers' specifications, from tote bags to shoppers, duffle bags, and belts. The best part? We only use the highest quality leathers from European tanneries that adhere to strict environmental regulations and implement production methods that reduce waste, and materials sourced from Europe, ensuring that every piece is thoughtfully crafted and made with love in France.
Looking for an extra pop of color in your wardrobe? Our grained leather collection offers a variety of eight exquisite hues, ranging from classic neutrals to vibrant tones. Whether you prefer timeless black or bold red, our collection has something to add a touch of sophistication and style to your wardrobe.
So why not take a chance and discover what customization offers? Peruse the designer leather selection, find a color combination you love, and design a bag like no other – just for you! It's so much Fun! Mix and match your favorite colors and play with your lucky numbers– endless possibilities are infinite!
We live in a world that emphasizes material things, from cars and jewels to designer bags. But the truth is, it's not the things that make life beautiful – it's how we experience them. Investing in experiences - such as creating entirely custom pieces with craftsmanship and details- provides us all with true luxury, where style and personality come together unforgettably. Furthermore, by making ethical choices, such as looking for sustainable solutions for leather crafting, we can make sure our fashion decisions focus more on a positive impact than anything else.
Other articles:
About LUC8K
Personalised style and sustainable luxury is who we are and what we stand for. Outstanding quality, made-to-order, and uniquely you.
Contact Us