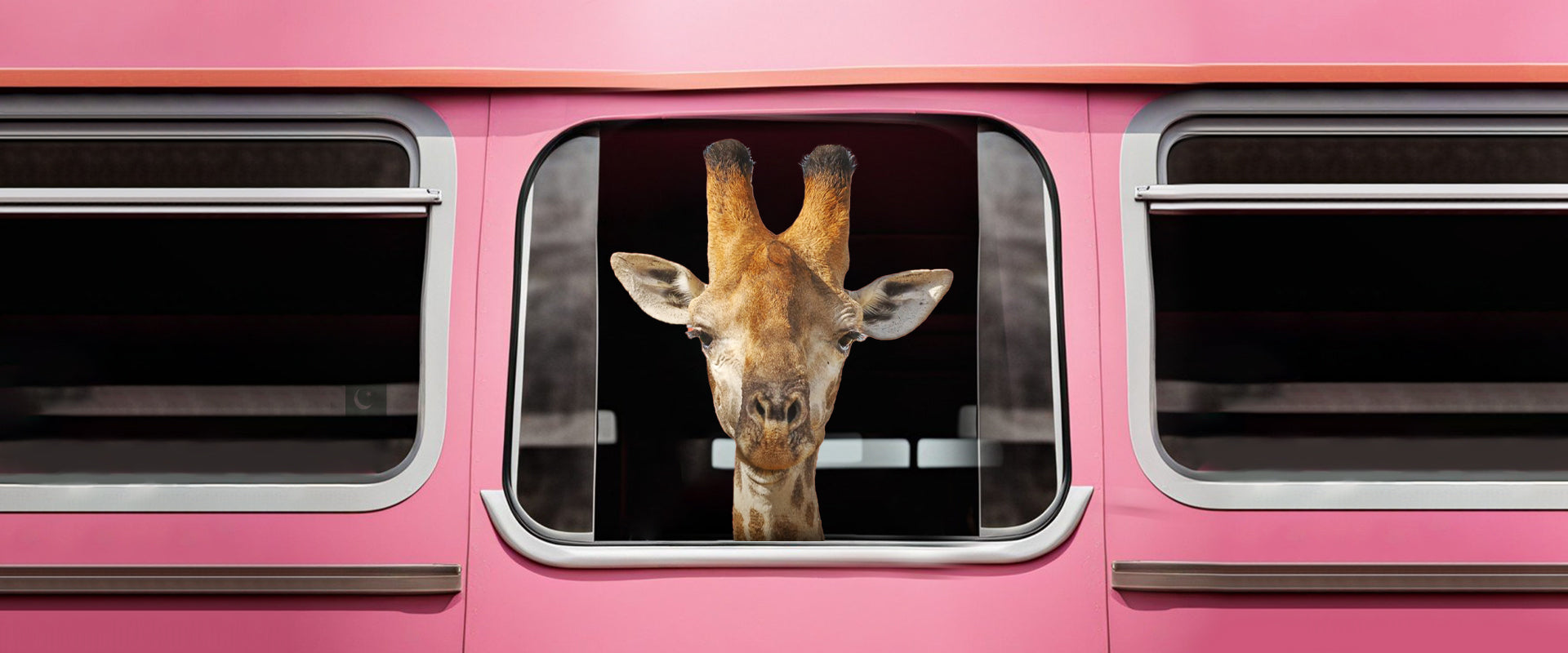 Sophie's Pink Bus Adventure: Taking You Along for the Ride! Hey there, fabulous readers!
It's your globetrotting giraffe, Sophie, back with another adventure, and this time, it's all about my favourite color. I LOVE pink! I've loved that color ever since I was a little calf in Botswana.
A little girl was passing by in a Jeep with her family to stare at me and my family as we grazed. She was wearing the most beautiful pink dress I've ever seen, and ever since, I've been obsessed with the color. I was heavily into 'The Pink Panther' too and I used to watch it through the living room window of the Game Warden's house every Friday night. It freaked him out, but after a while, he was cool about it.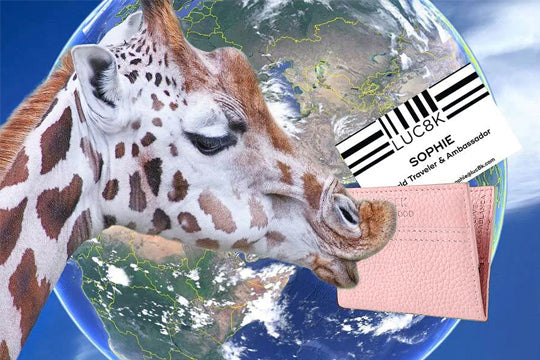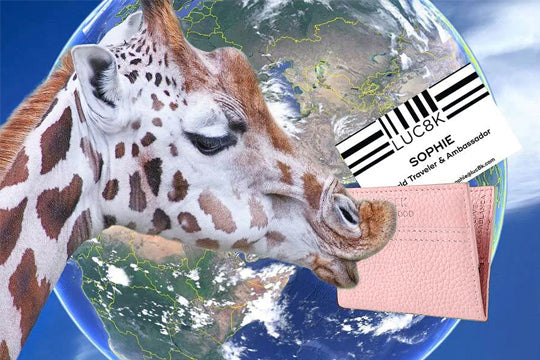 As LUC8K would have it, my most recent trip took me to Pakistan, and I've got a heart-warming story to share from it, all about my favourite color! Pink rocks, so, grab a comfy seat, a pink mug of coffee (or something stronger) and let's dive into a tale of pink buses and empowering women in Karachi!
Karachi is a city that never seems to slow down. It's all hustle and bustle, which is just the way I like it. It's the opposite of where I'm from, and it's manic! But amidst all the energy and excitement, I was mesmerised by something that really caught my eye - pink buses!
I saw a few of them, bright pink, packed with women as they navigated their way through Karachi's hectic traffic maze. I couldn't just stand there, in my high heels and hooves, and gawp at them in awe. I had to find out, so I asked Rajwa, a young female human at a bus stop (who missed her bus by 10 seconds, happens to us all!) and she told me the bright pink buses are the first women-only buses in Pakistan's Sindh province. And these buses are an absolute game-changer. Seriously. They're not just pink and beautiful for the sake of it. Nope. They're a symbol of safety, female empowerment, and progress. Big words for a tall giraffe, but I'm serious. Check this out.
These little pink wonders run along one of Karachi's busiest routes, and, who knows, maybe all of Sindh if it proves successful, which I'm sure as sh*t it will! Fingers and hooves crossed!
According to Rajwa, who is now a human friend for life, some buses in Pakistan had these women-only sections, but truth be told, it didn't always prevent uncomfortable encounters with men. Even in those sections, women would experience unwanted attention from these absolute assholes of humanity.
But with these new pink buses, there's hope for a safer commute for thousands of other women like Rajwa. It's the very least these women deserve. Poor public transport has been a big reason behind the low number of women in the workforce in Pakistan. Harassment is just one part of the problem, and this BS from these asshole 'men' limits women's job choices and work hours. What is wrong with people? It makes me so sad and so angry!!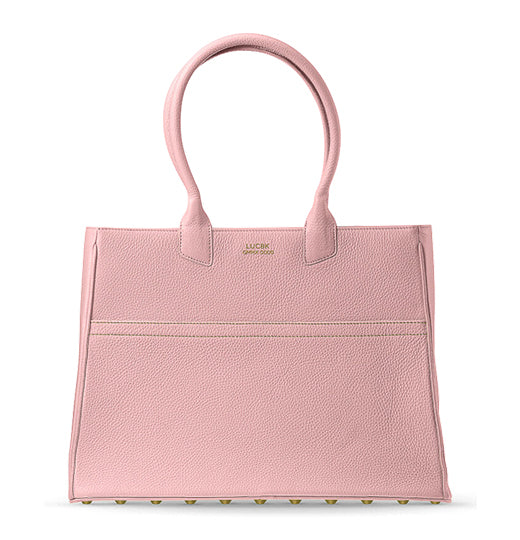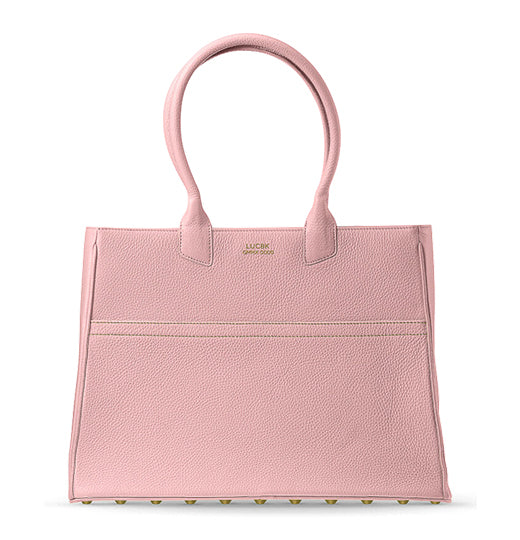 Thankfully, the wonderful pink, women-only buses will help more women like Rajwa join industries with late working hours – a game-changer for many young women in Karachi.
Pink is my color of choice. My LUC8K travel bag is pink. My massive towels are pink, and fluffy, and when I say massive, they are literally the world's biggest towels.
Pink is the best. It's beautiful, but here in Pakistan, it means more than just a color. It's simple but incredibly powerful. The goal here is to make public transport safer and more accessible for women. It's a big thing here. It might not be where you live now, but things are different out here, trust me.
Rajwa, she's amazing by the way, was telling me (once she got over the shock of chatting to a talking giraffe) that during rush hour, nearly half of the commuters are women, but there's not enough room for them to travel comfortably. These pink buses aim to change all that, providing a dignified and secure journey for the ladies, so they don't get any assholes giving them any sh*t.
It shouldn't have to be this way, but sadly, it is. I get lions attacking me and my family, that's only natural, but these women get attacked on a regular basis, by stinking, evil rats who deserve a good slap and prison time.
Apparently, Pakistan tried something like this before in 2012. There was an attempt in Lahore, but it sadly ended after two years due to a lack of funding. But hey, this time feels different, and the pink buses have the potential to make a real impact.
So, there you have it, folks – the amazing story of Pakistan's pink buses. While there are still challenges ahead (I'd love the lions that attacked me and my family to rip the heads off all the 'men' who think it's OK to harass women on their way to work) these buses bring hope and promise to the hundreds of thousands of women of Pakistan.
It's been an absolute honor to witness this positive change during my journey, and I can't wait to share more heart-warming tales from around the world.
Until next time, stay curious and keep spreading the love!
Warm and adventurous hugs, Sophie 🦒💖
Can Karachi's women-only pink buses drive change in Pakistan?
Harassment by men on public transport is one reason why female participation in the workforce stands at only 20%.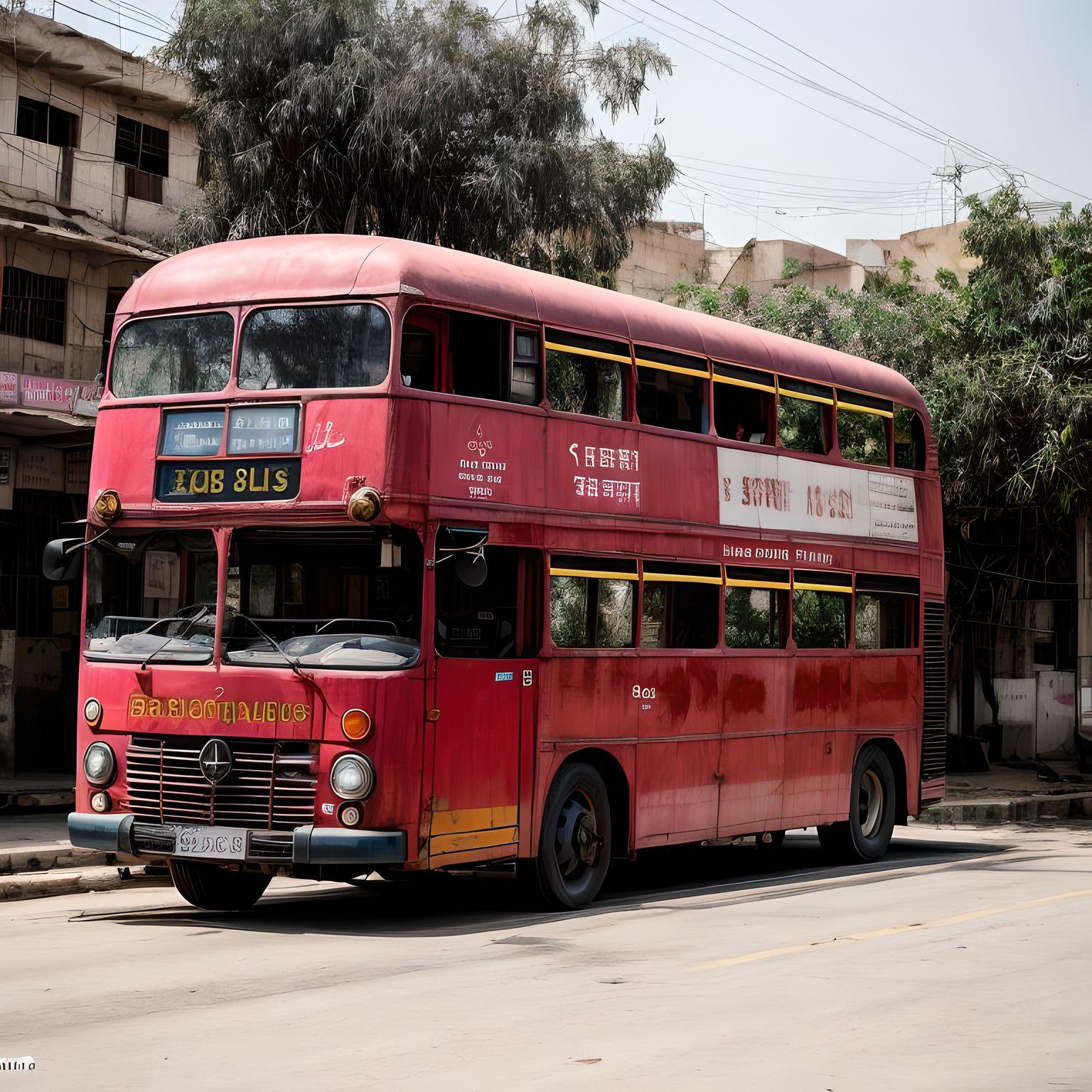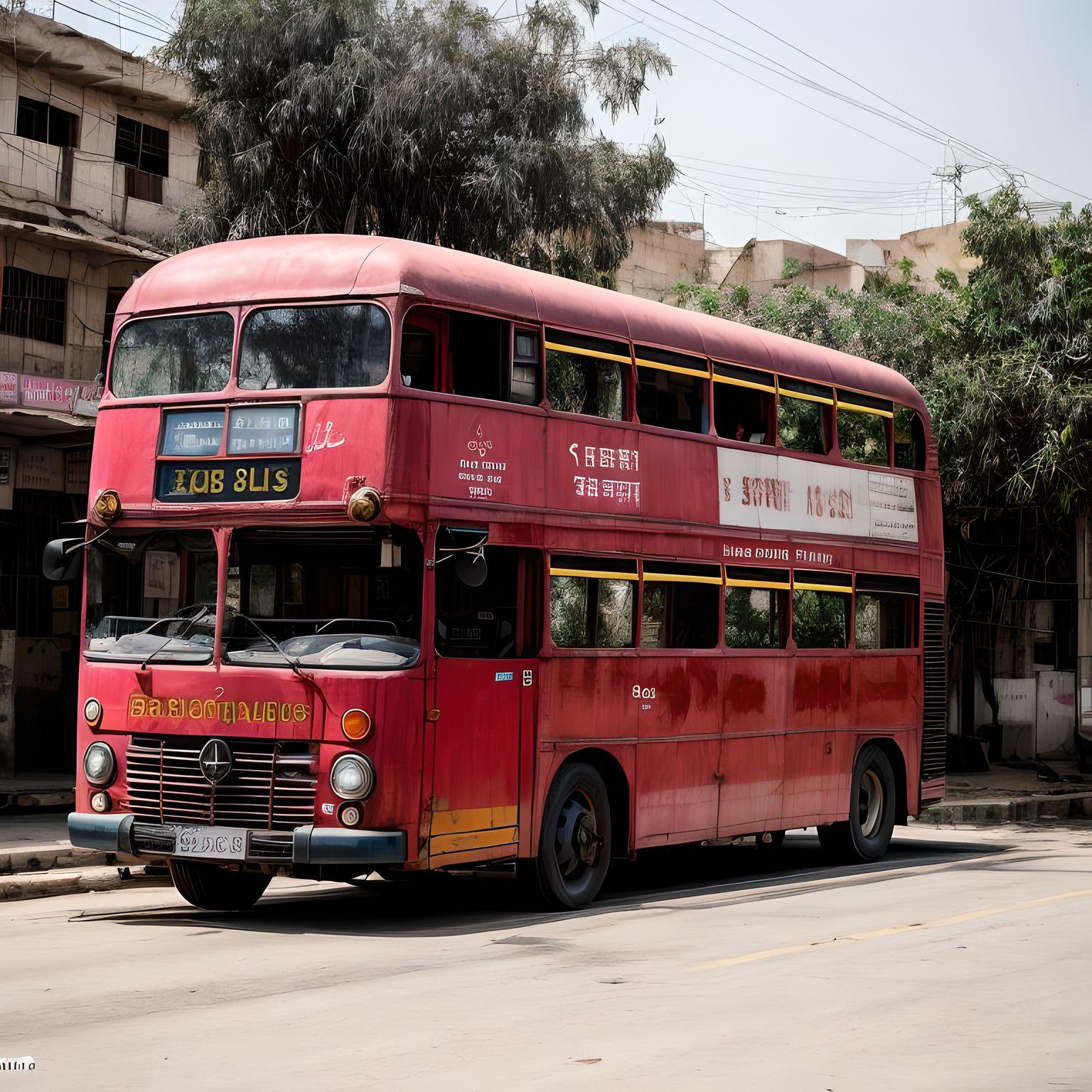 At precisely 1.40pm, the bright pink bus packed with women leaves the depot and snakes its way through Karachi's traffic. Two female conductors walk the aisle collecting the 50 rupee fare. This is the first women-only bus service in Pakistan's Sindh province.
Every 20 minutes during rush hour and every hour at quieter times, six pink air-conditioned buses run along one of the city's busiest routes from Frere Hall to Clifton Bridge.
"If this is successful, we can bring in more buses throughout the city, and eventually all of Sindh," says Sharjeel Memon, the province's transport minister.
Memon wants to make public transport safer and easier for women to use. "We have assessed that 50% of the commuters during rush hour are women and there is not enough space in the bus for them to ride in a dignified manner."
Launched on 1 February, the new service is Pakistan's second attempt to introduce public transport that protects women from harassment. The first, run as a public-private partnership in Lahore in 2012, ended after two years when the government pulled funding.
For decades, buses in Pakistan have had women-only sections. But, says Arshia Malik, 32, who takes the bus to work as a nanny in the upmarket area of Clifton, the segregation didn't stop men "touching your behind or rubbing your shoulder" while getting off the bus. "I would love to ride on the pink buses and ride without bracing myself for an untoward experience."
Raakhi Matan, 35, a domestic worker, says woman have to be alert on public transport at all times. Touching and lewd remarks from men are common. On one occasion, Matan says she took off her slipper to hit a perpetrator, while everyone looked at her horrified. "I've stopped caring [what people think] and do not feel mortified any more."
Matan, who has a 15-minute commute, welcomes the new service. "I will feel much safer on an all-women bus."
Dr Hadia Majid, an associate professor at Lahore University, has been researching transportation and its links to women's participation in the labour market. She sees the pink buses as a positive step in encouraging more women into the workplace.
Poor public transport, she says, has been a contributing factor in Pakistan's dismally low proportion of women in the labour force. In 2021, women made up 20.6% of the country's workforce. Harassment was not the only obstacle. Inadequate transport meant women often had to take more expensive taxis or rely on lifts from relatives. "This limits the times and the places that they can work because it ties them to male kin's timings and place of work."
It also makes it harder for women to look further afield to find work. "So, unless there is dire need, it's easier and preferable for women to just sit at home," Majid says.
The pink buses are part of the city administration's wider public transport improvement plans. The Green Line bus rapid transit (BRT), connecting Karachi's northern suburbs with the city centre, was launched in January last year, six years after construction began. More than 12 million people have so far used the BRT, and other routes are planned.
Arooj Abbasi, who works in hospitality, is excited at the prospect of women-only buses. "Our working hours start later in the day, from 3pm and up to midnight. Many young women who want to join this line of work are deterred by the timing as they know they will not get reliable transport home at night. But if these pink buses can provide that safety, many women will come out of their homes and work."
Others point to the wider problems. University student Hiba Hasan Fasihi, 19, is sceptical about whether a pink bus can "resolve the way men look at women" but says she will use the service. "The pink buses can be used during rush hour when there can be a lot of pushing and shoving."