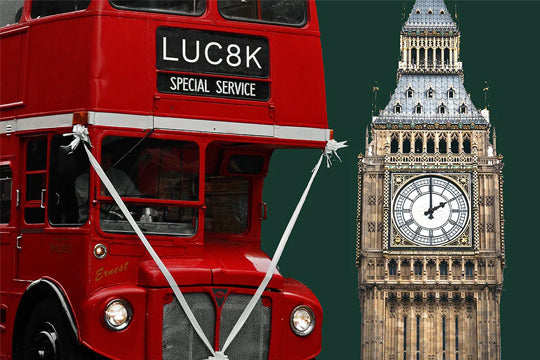 Join our heroine Sophie on an exciting journey through the city of London. With her Union Jack-painted leather goods in tow, explore the sights as she is invited to join His Majesty King Charles III in his carriage for a sustainable future.
SOPHIE GOES TO LONDON: IT'S THE KING's CORONATION!!!
Hello all. I'm over the whole COVID thing now. I like to travel, as you know, and I'm sorry you've not heard from me for a while. I've been keeping my head (and neck) down, travel has been restricted, and wearing a mask is NOT a good look for me. But the one good thing about COVID is, it's allowed me to work from home, spend more time with my family in Botswana, and appreciate how lucky I am. Maybe it's the luc8k I'm getting from my tote bags, and being brand ambassador for such a cool, sustainable luxury brand, but so far, I've managed to avoid getting COVID (hooves crossed). I have many friends in high places and most of them have had to endure an endless cycle of tests, sore throats, and time away from their families in isolation, which is awful. I guess I'm one of the lucky ones.
I'm so glad the world has opened up again. I feel like a rainbow has appeared after the storm, and life is getting back to some kind of normal - the 'new normal'. There is hope for us all now, and I hope lockdown has made us appreciate just how lucky we are to be able to travel and run wild and free. Travel is liberating, and I'll stick my long neck out and say that we should all make the most of every day and travel as much as we can.
There's a big, wide world out there and we should embrace the fact we can now go anywhere we want (apart from North Korea. Been there once, never again) and live our best lives. We only have one life. Live it well. Grab your tote bag, passport, inflatable neck pillow and pepper spray, get on a plane and go somewhere you've always dreamed of. With this in mind, I hugged my little calves, jumped on a plane and I'm writing this from a swanky rooftop bar in one of the most cosmopolitan, vibrant, and wonderfully chaotic places on earth – LONDON!!! If I'm honest, it's not somewhere I'd want to live. I like hot weather, and apparently, London only gets sunshine three, maybe four days a year in June.
The architecture is stunning, the history is beyond compare, the shows, the diversity, the vibe – all good, but I'm not good with confined spaces, and the Underground is the best way to get around. It's hot, cramped, and they don't have a dedicated giraffe section or anywhere to put my precious bags. Also, when I smile at strangers, they think I'm crazy and look away. If I'm honest, it's not the friendliest place on earth but London is incredible and awe inspiring. There's an energy about it, hard to explain, but it makes you feel alive and makes you feel small – no mean feat when you're 15ft tall! There is no other place on earth like it, and I don't know of any other capital city on earth where you can get vegan food at 3am. Not even NYC!
Anyway, I finally arrived after getting all seven of my bespoke bags checked at Heathrow. Those guys are thorough! Luckily, all they found was my Gucci shades, makeup, eyelash extensions, phones, iPads, pepper spray, bracelets, diary, hoof polish, and gorgeous accessories (my infinity belts set off all kinds of alarms at the airport, oops, my bad) but I guess security is on high alert because…IT'S THE KING's CORONATION!!!
I can't tell you how excited I am to finally meet The Family. Obviously, Harry and I had a thing going on before he met you know who (I can't even bring myself to mention her name, Grrrrrrrrr) but it'll be nice to hang out with Chaz, Camilla, Wills and Kate at such a special, once in a lifetime Royal event. Well, it'll happen again when William becomes King, but that's not for a few years yet! But I love how dis-functional the Royal Family are! All that money and glamour yet they are just like the rest of us. Just like Prince Harry, Kevin, my cousin, has fallen out with his family, fallen in love with a rhino, and moved from savannah to Namibia. He only trots back for special occasions, stays for a hot second, then heads straight back to be by her side. Love is a strange and powerful thing…
William is wonderful though. He seems like a nice chap, he's heavily into sustainable living, he does a lot for humanity and his wife is GORGEOUS! I LOVE Kate's style, and she's a lot like me in that respect – subtle, elegant, effortlessly chic - and I cannot wait to meet my namesake, Sophie Wessex Duchess of Edinburgh, and talk about our shared love of animals, the environment, and our passion for sustainability. Like me, she used to work in PR too, so I'll chat about my role as global LUC8K ambassador and hopefully share a cup of herbal tea or two with her and Prince Edward. Apparently, giraffes are her favorite animal so we'll get on like a house on fire, but I've no idea what to talk to Edward about. He's the quiet one and looks like a toddler made his face out of Play-Doh. Bless him.
Anyway, on a positive note, I can't wait to ride around Buckingham Palace in the golden carriage with Charles and Camilla, I just hope it has a sunroof so I can stick my head out of it - so long as it's sunny and not the usual British onslaught of rain. Might be a tad cramped inside otherwise. I wasn't a fan of Camilla at the start (I met Princess Diana when she visited Africa in 1997. Wonderful human being) but I'm starting to like her. She cares about the things I care about - conservation, the environment, and especially sustainability, and she obviously makes King Charles very happy.
Whilst my bags were getting searched, I Googled some interesting facts about my Uber Royal ride; The iconic
Gold State Coach
was designed by William Chambers and has been at every coronation since 1831. It's not looking too shabby to say it's 260 years old. The interior is lined and upholstered with pure velvet and satin and features magnificent painted panels of Roman Gods and Goddesses. I like to think that I'm a bit of a Goddess too when I want to be…and I will be showcasing a VERY special, handmade bag just for the occasion, so look out for that.Also, look out for me on the balcony at Buckingham Palace with the Royal Family as I stick my neck out and survey the thousands of loyal British subjects lined along The Mall, all waving flags and cheering. It will be a sight to behold, and it will be a day that none of us will ever forget. The next day, there will be a Coronation Concert and the
Coronation Big Lunch
, which consists of communities sharing a meal "in a nationwide act of celebration and friendship," which to me, sounds wonderful. This day is a great way for people to come together and celebrate diversity and humanity, and it's a great excuse to dress up and drink Champagne! The nation will then enjoy a Bank Holiday on Monday May 8th, and that day will also be known as the Big Help Out, which will highlight volunteer work across the U.K. organized by
The Together Coalition
. I think this is a great way to honour the incredible human beings who give up their precious time on this planet to help others.
All these things I love. Caring about each other, sustainability, openness, and the realization that money does not make you happy. That is why I love traveling so much. It broadens one's horizons and makes you rich in memories and experiences. You can have all the money in the world but it's worthless if you don't enjoy life by meeting new people, seeing different places and sharing the love. Today's luxury is more about freedom than money.
It has been a long time since I've been able to travel. Now things are getting back to normal and the world has opened up again, I will embrace this adventure with all my heart. It's not often you get the chance to travel, see the world and have herbal tea with Sophie Wessex! I will be doing my PR bit for LUC8K of course, but I will also take time to appreciate how lucky I am to have the opportunity to spread my wings and fly again. COVID has been a real pain in the neck, and for some, it's been heartbreaking. I'm going to make the most of this trip to London, and I will absolutely do everything I can to enjoy every single second of it. Life is short, sometimes brutal (Kevin, a good friend of mine, was eaten by a pride of lions last week)
We only get one life, and my advice is to live it well and do it in style. With that in mind, I'm off to get my nails (hooves) done. I'm having a bit of a spa day at Soho House, and a neck trim for the big day. No need for eyelash extensions, I've brought them with me. Might have Botox too, whatever that is.
Chat soon my loyal subjects and put the champagne on ice for the most historic day one can possibly imagine.
"Giraffe Princess" Sophie x 
Other articles:
About LUC8K
Personalised style and sustainable luxury is who we are and what we stand for. Outstanding quality, made-to-order, and uniquely you.
Contact Us