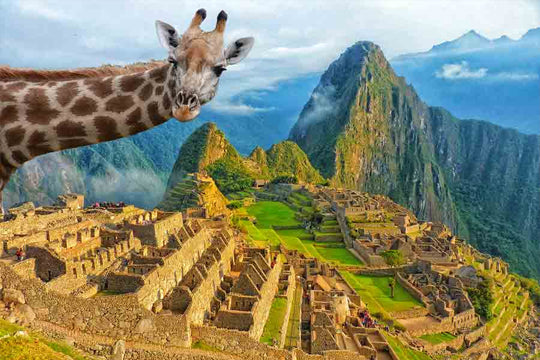 Sophie likes to move quickly when traveling, and nothing says fast, sleek, and stylish like the new Weekender duffle bag and the colorful new handmade leather belt. These items will come in handy with her new adventure, a trip to Argentina and Peru, two countries known for their rugged beauty, diverse cultures, and fine cuisine.
Landed In Buenos Aires
Sophie's flight landed in Buenos Aires, the largest city in Argentina and one of the most important in South America. It's a place known for its street art, contemporary design, and preserved Spanish architecture. It is a melting pot with residents and visitors from all over the world.
Sophie is hungry, and she headed straight for Cucina Paradiso, one of the best-known Italian restaurants in the city. Almost half the city's population can claim some form of Italian heritage, and Italian food is woven into its multi-ethnic fabric. The bustling restaurant is known for its pasta, and Sophie wastes no time ordering the "Ravioli Di Mare al Nero Sepia," which is a black kind of ravioli filled with fish and prawns in tomato sauce. It tastes as good as it sounds, and Sophie is in food heaven. As an added bonus, the restaurant owner, celebrity chef Donato Di Santis, was in the restaurant busily making pasta. He stopped over to greet the most unusual whoever entered his place while people took pictures making Sophie feel like a VIP client, especially wearing her handmade leather belt.
To walk off the wonderfully tasty meal and to tighten her handmade leather belt again, Sophie took a stroll through the city, making sure to cross the widest avenue in the world, 9 de Julio Avenue. It has multiple median strips over a kilometer wide because no pedestrian could make it across before the light changes. Of course, no one except Sophie, whose daring trek across the busy street shocked and amazed the Argentines. They applauded her accomplishment.
With a full belly and good night's sleep, Sophie grabbed her Weekender duffle bag and headed to Switzerland, or perhaps more accurately, "Little Switzerland." The quaint town's actual name is San Carlos de Bariloche, more commonly referred to as just Bariloche. It's inland in the Patagonia region, close to the Chilean border. Here, you won't find Argentine cowboys or the famous trainers and riders of Polo horses. Instead, it's an international tourist destination, best known for its Swiss-style architecture and for the chocolate, which Sophie tries at every opportunity she gets. The surrounding area serves as a ski resort, but this is summer, and Sophie instead chooses to go hiking through the forests that surround the lakes. Others prefer to use the lake for boating, kayaking, and fishing. A few crazy people decided to go swimming into the chilly lake waters, which supplies Sophie with a good laugh.
She has cut this trip short, though, as she goes to her next stop: Peru
Sophie lands in Lima, one of the hottest places in the world right now for cuisine. Like Argentina, Peru is a melting pot of different cultures, including European, Andean, African and Asian. The street eateries and fine restaurants reflect this mix as well as ingredients that range from Pacific Ocean seafood to gatherings from the Amazon Rain Forest. Not having time even to put her Weekender duffle bag away or take off her customized belt, Sophie tried a mix of its famous street food, including anticuchos (Beef heart kebabs), chicharrón, pavo (turkey sandwich), and to El Chinito for chicharrón or chanchito Asado (sandwiches made with fried or roasted pork in Chinese seasonings).
Sophie needs her energy as she heads into the belly of this country's extremely diverse landscape that ranges from arid plains of the Pacific coastal region in the west to the peaks of the Andes Mountains. She chooses to go to the Andes.
For a night's sleep, she goes first to the Skylodge Adventure Suites, advertised as three luxury capsules on the side of a mountain that are totally clear, providing a 300-degree view of the surrounding. This is indeed for adventurers, and Sophie seeing the 300-meter ladder to climb to the capsules, the tightness of the space for her 15-foot body, and that it isn't really a luxury environment, decided to go elsewhere. Not even her handmade leather belt tighten more can make her a bit smaller in size.
After her sleep, she joined a seven-day tour to Machu Picchu and Lake Titicaca, where her Weekender duffle bag and handmade leather belt are right at home.
The first two days were spent exploring Machu Picchu's ruins, the 15th Century Inca Citadel considered by many to be one of the world's wonders. It is a site of such solitude and beautiful panoramic views that it brought tears to her eyes.
The tour's final leg was to Lake Titicaca, a name that has made school children giggle for a century. It is often called the highest navigable lake in the world, with a surface elevation of 12,507 feet / 3812m. The lake and surrounding area is a quiet place, even spiritual, which may be why the Andean people believed the lake was the sun's birthplace.
Sophie gazes at the remarkable natural creation and thinks about how the world's daily problems just seem to be so far away.
Read more: Sophie disappears in Tonga to stretch her long legs and How Sophie seeks the answers. While being already in South America, Sophie wanted to discover Rio in Brazil, of course.
About LUC8K
Personalised style and sustainable luxury is who we are and what we stand for. Outstanding quality, made-to-order, and uniquely you.
Contact Us