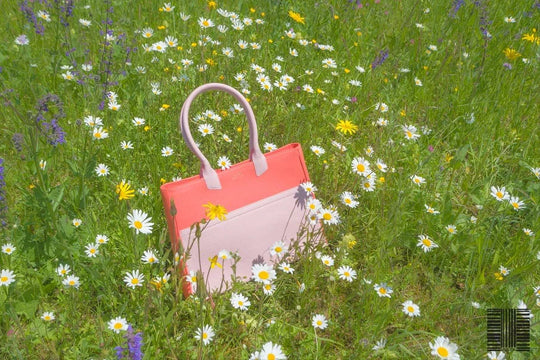 At LUC8K we believe in setting trends not following them. We do this by the design of our high-quality leather goods, the manner in which they are constructed, but most importantly we set trends through the use of color. And so do you.
We break the rules by letting you pick your colors and use our given design as an instrument to composing your style and communicate the idea of exclusive personalized beauty. This is a powerful tool for a woman who knows herself and has her own sense of style. LUC8K is for a confident woman comfortable enough to make her own style decisions in a world where everyone is telling her what to wear and how to wear it.
Color In Design Is Very Subjective
There are infinite colors in the universe and the moods they create are limitless. However, color in design is very subjective. What evokes one reaction in someone may evoke very different reactions in others. Colors can make us feel happy or sad; hungry or relaxed. That's why we view color as language and self-expression. It's a serious matter for us and one of the most important things that we believe make us special.
The U.S. company Pantone considers itself "The Color Authority." It has a library of about 1,800 colors that are categorized and named. The Pantone color system provides endless choices. That's where we come in. We selected a group of five Pantone colors unique to LUC8K for our high-quality leather goods.
Within this unique palette, you can express your own style by creating a uni- or –bi-colored pattern for your luxury leather bags and accessories. As a consequence, your smart bespoke accessory becomes an expression and significant element of your overall outfit.
Sustainable value – and the joy of being alive
One of the most important things about exclusive bags is that they accompany you on your journeys, whether it's to the local market or an exotic destination. That's where the language of color meets the language of travel. The sounds, the food, the aromas, the new people you meet. Travelling is like telling a story. Hence, storytelling is not something we do. It is, in fact, who we are. It is all about how we perceive ourselves, how others perceive us, and, how we want to be perceived by others.
LUC8K wants to inspire people to live their colors, using design to convey their personal idea of beauty. We want your adventure to awaken you to the joy of being alive and allow you to make the most of your time on earth.
Other articles:
About LUC8K
Personalised style and sustainable luxury is who we are and what we stand for. Outstanding quality, made-to-order, and uniquely you.
Contact Us